Introducing Two New Sundance® Hot Tub Models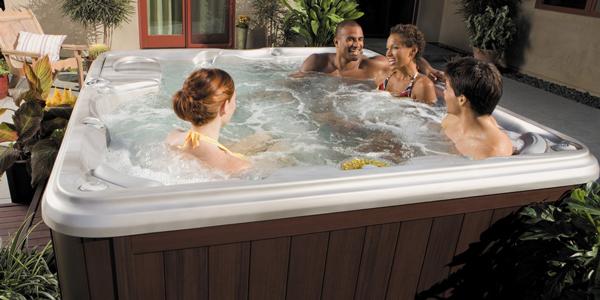 Just as Mount McKinley, the tallest mountain in North America, is an awe-inspiring feature posing as the focal point for all to admire, the McKinley spa garners a similar reaction in backyard setups.
This Sundance hot tub provides the centerpiece for all your social gatherings. Spacious enough to comfortably fit up to six of your friends and family, the McKinley pampers bathers with 44 massage jets. These jets are modeled in seven different ways to offer customizable massages that suit the individual needs of each of your guests. What's more, this new model also includes special features, such as, pillow headrests, LED lighting, and waterfalls to entice your party into an oasis of relaxation.
Treat yourself to the Ramona, and then share the glory with five of your favorite friends and family. This custom spa features a spacious setup where a party of six can soak up the benefits of the newest Sundance model. Presenting powerful jets and expertly designed seats, the Ramona spoils you with the restoration and rejuvenation benefits you crave. The hot tub flaunts LED lighting and designer stainless steel jets, but it is also compatible with add-ons, including the BLUEWAVE® Spa Stereo System.
Whether you're in the market for a backyard center of attraction like the McKinley or an enticing addition to your garden oasis such as the Ramona, both of these new models will transform the way you relax and host social gatherings. For additional information on our hot tub designs and features, download a brochure today.